Design and Technology matters: inspiring innovation and pre-HSC course entry success story.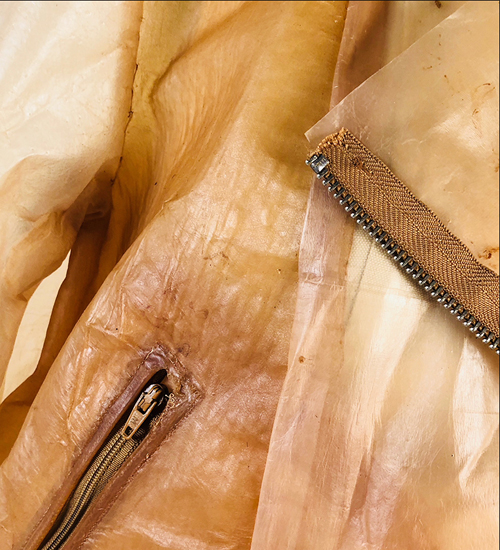 What's the scoop with Major Design Projects?
Coming up with a design opportunity which personally interests the student is both the most difficult and most important step of executing a successful major design project in HSC Design and Technology (D&T). Generally from years 7-11, D&T students are given a design brief with constraints and specific resources to use. In year 12, it's open slather! This can be both liberating and daunting to say the least.
Establishing a point of difference or a unique element is strongly encouraged, and must be outlined in the corresponding portfolio. Although all students follow the same design process, they work individually. During the testing phase, being self-driven and having a willingness to overstep boundaries when failure is a possibility, is encouraged and usually results in greater problem-solving effectiveness and creativity. This is where significant learning and reward takes place. The solutions to design problems can't always be googled. The opportunity for students to build their skills so diversely is wonderful.
The fact that each end result is exhibited to both external NESA markers and the Bradfield community at the annual Design and Visual Arts exhibition, also puts significant accountability on students. There is nothing more satisfying than witnessing a student's self-pride when they're project is on display.
Major project overview 2018
A broad array of design project areas have been completed by the 2018 Design and Technology students. Students have improved skills and knowledge in 3D printing, laser cutting, wood working, sewing & pattern making, app development and more:
Rebecca Li produced edible cutlery by producing 3D printed cutlery moulds and a silicon baking tray. This idea addresses the overuse of plastic cutlery by ice creameries.
Georgia Renton's copper ring designs for arthritis sufferers met a genuine need, and were backed by a jeweller as being a saleable item.
Ryan Brown, who plans to travel and busk in the future, produced a 'busking jacket' with integrated passport pockets. It converts into a back pack, so his valuables are always secure when he is busking.
Georgia Houston produced a ceramic closed looped composting system and stand for apartment dwellers. This design aims to address food waste issues.
James MacDonald's efficient liquid collection bottle is a design idea which surely is marketable. This design collects every drop of the contained liquid and also is reusable.
Isabella Medcalf's contemporary medical jewellery with links to a database (via QR code) is sure to assist people with medical issues.
Going to be completing a Major Design Project in the future?
Here are some tips from some of our D&T students;
Aiya: 'Attend your classes. Listen to your teachers and remember that you can't get it all done in one term'.
Benedikt: 'Start your portfolio the first possible moment you can'.
Maddie: 'Allocate your time evenly throughout the year. Don't ever stop for long breaks'.
Rebecca: 'Leaving everything until the last minute is very stressful. Use your class time!'
Alice: 'Know your design brief straightaway'.
For more, you're invited to:
Come to our Major Design Exhibition which will exhibit all Bradfield's Design and Visual Art subjects.
Opening Night: Wednesday 12th September 6 – 8pm: FREE tickets here
Also open Thursday 13th September 10am – 6pm
Alexandra Wheeler
Teacher, Design and Technology.
Teacher, Fashion.
Philip Gray
Teacher, Design and Technology.
Heather Weir
An inspiring success story for Year 12 student Heather Weir
Heather has been working toward the goal of being accepted into a fashion course at the University of the Arts London (UAL), studying both Fashion and Design and Technology at Bradfield. UAL sends a representative to Australia each year to interview prospective students. What Heather produced in these subjects allowed her to put together work samples and a portfolio which she could take to the 40 minute interview (it was also a big motivator for her to extend herself in these subjects).  
Heather was accepted into the London College of Fashion (one of the 6 colleges within UAL)! At 17, she is the youngest student in Australia to be accepted this year. Of 6,000 people, only 35% are accepted. A huge congratulations goes to Heather.
What is the future of fashion?
Heather would say it includes technology, science and design. Heather's Design and Technology Major Design project consisted of her growing her own bio-fabric using Kombucca (fermented tea) and producing a 'leather-look' jacket. This bio-fabric is completely biodegradable and both addresses current fast fashion issues, is animal friendly and has zero impact on the environment. Essentially, encouraging the growth of bacteria (presence of sugar and yeast) and placing it in a dark place for up to 6 weeks allows the bio-fabric to grow. A large growing vessel was obviously required to produce large pieces, so Heather had plastic tubs situated under her bed, and her family bath reserved for this purpose.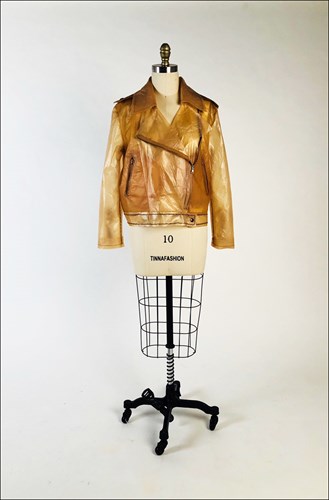 Once the bio-fabric sheets had grown large enough, they needed drying, and the family garage was then reserved for drying purposes (6 weeks). The fabric could not be sewn unless completely dry as the sewing machine needle would easily rip the bio-fabric...a traumatic experience after all the effort to get to this point. There were many problem-solving episodes which Heather handled well. For example, when sewing a regular jacket, the undersleeve and side seams would be sewn first, inside out, and then turned the right way out after sewing. This was not possible, as bio-fabric wouldn't survive the turning process. Therefore an alternative leather working method of stitching was used including hole-punching and hand stitching these seams. Thankfully this only enhanced the end aesthetic. Often unexpected issues can add interest and improve the overall outcome and this was the case for Heather's jacket.
It is important to note that universities are changing their enrolment process, for the better! Heather has not completed her (non-ATAR) HSC yet. She was accepted based on subjects she is completing (TAFE included), her passion and evidence of work. The take home message is, if you know what you would like to study post the HSC, you may be able to apply early. You do not necessarily need to wait until after your HSC.
Find out more about UAL here.