Intergenerational 'Secrets' project sheds light in the aged care community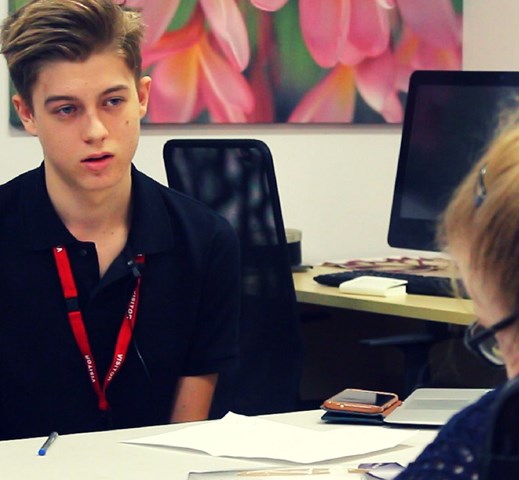 Each year between May and June Sydney is transformed into a light and art spectacular for the Vivid Festival. This annual outdoor festival is free and looks to bring the city of Sydney to life during the winter months and entice people into out into the streets to celebrate their city. The Sydney Vivid Festival is the largest of its kind in the world and attracts record numbers of tourists every year. Vivid Sydney is made up of Vivid Light show that create innovative light installations and illuminated art sculptures on major buildings throughout the city.
The light shows are complemented by Vivid Music which presents musical collaborations and live performances by local and international artists and musicians throughout the city in hidden laneways, bars, venues and of course, the iconic Sydney Opera House. The festival opens up many opportunities for professional development as well through avenues such as Vivid Ideas which provides opportunities for specialist speakers to give updates, announcements and to communicate business opportunities as well as networking with professionals in the creative industry.
As part of the Vivid Ideas Program for 2017, Bradfield Senior College, a senior high school that specialises in the creative industries, teamed up with Vivid Sydney to host 'Creative Careers' a two day event held on their school grounds in Sydney's lower North Shore suburb of St Leonards on Friday 26 and Saturday 27 May 2017.
The Creative Careers event held at Bradfield Senior College were for students, parents, careers advisors and creative teachers with the aim to inspire, innovate, encourage and connect the creative industries by providing seminars, creative workshops, interactive experiences, food and entertainment as well as music and dance performances. A special feature of this year's Creative Careers was an exhibition featuring an art gallery as well as a pop up Art and Design Marketplace with over 40 stalls for the creative industry.
As part of this Vivid initiative two New South Wales Hall & Prior lower north shore homes, Caroline Chisholm Aged Care Home in Lane Cove and Glenwood Aged Care Home in Greenwich were chosen to be a part of the 'Secrets Exhibition', one of the projects developed for the Bradfield Senior College Vivid Ideas Creative Careers program.
The Secrets Exhibition is an interactive insight into the secrets of the older generation, documented by Year 11 students as part of their industry experience program using mixed media, photography, film, art, music and installations. Its purpose, 'bridging the years between generations and giving a historical and social context to the present.'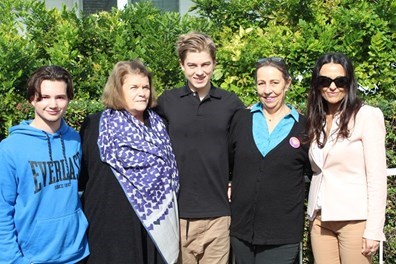 Bradfield Senior College students and teacher, along with Caroline Chisholm Director of Nursing Anne Curnow and Lifestyle Officer Lynne Power.
In preparation for the exhibition a few students from Bradfield Senior College spent some time at our homes under the supervision of a teacher, documenting and interviewing some of our residents, Kevin Murphy and Valentine Lowe from Glenwood Aged Care Home as well as Geoffrey Murray, Diana Carley, Michael Shaddick and June McKenzie from Caroline Chisholm. This was a great way for the students to learn a bit about the residents. The residents where very open with their interviews telling the students about their incredible past and what they have achieved throughout their lives. Caroline Chisholm resident Diana Carley also took the opportunity to share her art work for the Bradfield Vivid Ideas Career Expo.
All residents that were involved in the 'Secrets' project were invited to attend the ticketed event. Three residents from Caroline Chisholm along with Director of Nursing, Anne Curnow and staff attended. Residents Diana Carley, Geoffrey Murray and Vera Taylor who took this lovely outing on Friday 26 May to the Bradfield College event felt "very special." Staff and residents of Hall & Prior were all proud to see Diana's art work on display.
Following the exhibition staff and residents along with some students and teachers as well as other guests gathered together for a luncheon where they all enjoyed a social meal and mingling with all the students and staff of Bradfield College. This was a wonderful experience and was such an honour to be a part of the Bradfield College Vivid Ideas Creative Careers event.
On June 1, Trent Zimmerman MP, Member for North Sydney said in his Vivid Festival speech in the Parliament of Australia, "I particularly want mention their 'Secrets' exhibition, which included a documentary made in partnership with the residents of the Caroline Chisholm aged-care facility in Lane Cove. I know that the making of the doco was a moving and revelatory experience for both the students and the aged-care residents involved."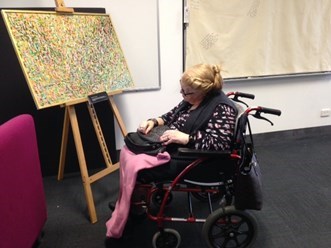 Resident Diana Carley from Caroline Chisholm Aged Care Home in Lane Cove, NSW admiring her artwork at the Secrets Exhibition.
Article originally published on Hall & Prior's website.