Teacher experience in theatre adds value to the classroom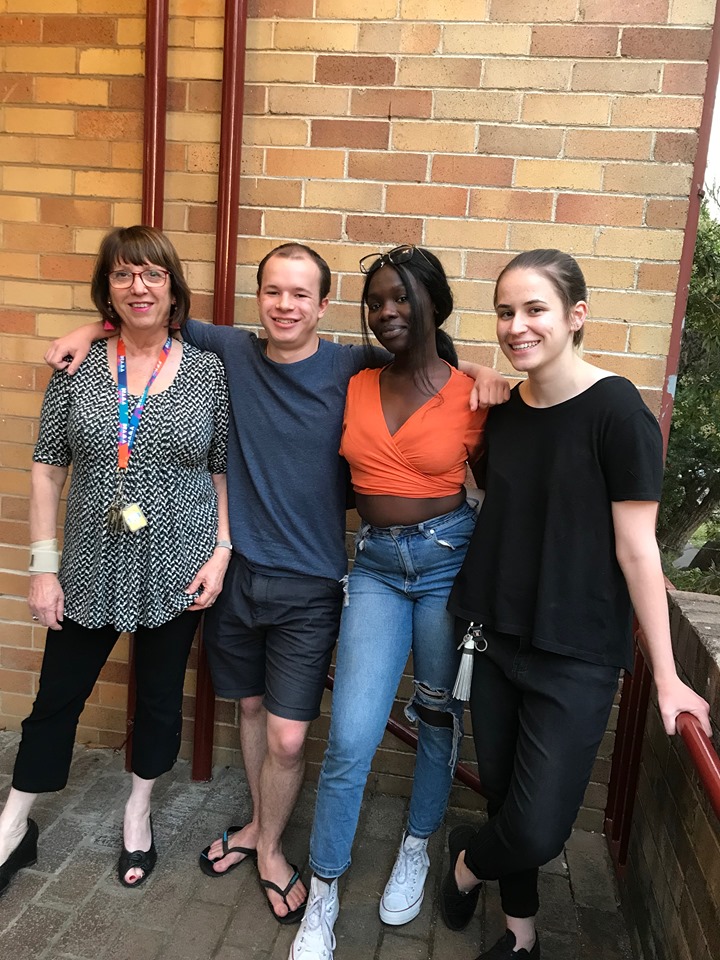 At Bradfield, many of our teachers work concurrently in industry alongside teaching at the college. For instance, Carla Moore teaches senior drama and outside of the college, Carla is a playwright and theatre director. For the past 17 years, she has served as president of the Chester Street Theatre in Epping having been involved with the company since1972. Once a year Carla directs a production.
Carla reflected on what the theatre means to her. 'In theatre we perform and entertain - we can show off and amuse ourselves and yet it is also one of the most powerful instruments for exploring the world we live in. The theatre can be reassuring or controversial, subversive or conservative, diverting or enlightening. Theatre is something people need as they recognise their own image in all its possibilities: the good the bad and the ugly.'
Throughout the year, Bradfield students use the Chester Street Theatre for their work placement gaining experience in lighting, sound, stage management, set construction and front of house.
On both teaching students and working with them at Chester Street, Carla says, 'The hands on experience motivates students when back in the classroom. Students make connections between the hands-on and the classroom theory. It provides them with a greater insight and focus.'
Many Bradfield students, both past and present, are still working voluntarily at the Chester Street Theatre, thanks to Carla. Some Bradfield students Carla has recruited include:
Current
Susan Sogora
Jack Linklater
Fran Dolan
Rohan Grant-Dawes
Past
Charlotte Wiltshire
Kara Jarman
Alex Howard
Mike Brew
Mathew Thomas
Current Bradfield Sudanese HSC student, Susan Sogora, acted recently in the production 'Doubt'. In  review by the industry magazine Stage Whispers, Susan's performance  was complimented: 'She  transforms to a forty-year old mother in the role of Mrs Muller, whom Aloysius confronts about her son's relationship with Flynn. Sogora shows her understanding of Muller's rising indignation in a performance beyond her years and experience.'
Carla said that within the play, the use of pause and silence highlights the tension, the unspoken truths and untruths within the text. These elements are paramount for constructing the basis of group work, which is studied in year 12 Drama.
'Working with Carla has been one of the most rewarding and humbling experiences I've had in the industry so far,' said Susan. 'I came into this school passionate about drama but nervous about being overlooked. Being a dark-skinned African in a predominately white industry has never been easy.' Susan found it hard to find roles that suited her simply because they are rare. 'Throughout the year I have been constantly encouraged and pushed to be the best actress I can be. Carla saw my talent and worked with it to bring the best out of me, which made me feel valued.' Susan said that when Carla approached her about the role she was 'beyond excited', but also nervous because it was her first time doing live theatre outside of school. However, Susan said that being in a professional environment directed by someone who believed in her made it an amazing experience. This opportunity rewarded her with industry experience. 'It taught me to never doubt myself and my talent. Every show I'm constantly pushed to be better, think bigger, be creative and simply have fun!''
In another example of the importance of industry in senior school study, 2019 Bradfield graduate Charlotte Wiltshire, produced a reusable, affordable and portable set design, with an ability to be flat-packed for her HSC Design and Technology project. Thanks to Charlotte's connection to Carla, this project was purchased and is now being used by the Chester Street Theatre. Charlotte gained much experience working at the theatre, and has recently gained employment both working as a theatre technician at The Concourse Theatre and as an events assistant at the Recital Hall. This is a great achievement, especially considering she only just completed her HSC.
 Community theatre provides an opportunity for the amateur practitioner to practice and develop their creative skills in a variety of roles – these include direction, design, front-of-house, marketing and of course, performance. Community theatre is a platform for passion and provides for those who have a desire to make the arts their profession, their first precious steps into the precarious and wonderful world of the theatre.
A great deal of fun is had along the way as participants collaborate with other like-minds in a setting that provides a cherished social interaction and develops valuable skills, whilst also providing audiences, in suburban and regional areas, with perhaps their only access to live performance.
The company works out of a church hall and programs 3 productions a year. All are eagerly attended by an enthusiastic local and loyal audience. A subscription package is offered but they do not receive any other funding. Companies like Chester Street theatre rely on their box office to function.
Carla, was inducted into The Association of Community Theatres Hall of Fame, for outstanding service to the sector. Awarded by Nancye Hayes. She was interviewed by Peter Eyers.  Podcast link https://player.whooshkaa.com/episode?id=395958